Here is dinner from last night
The flavors sound weird, but worked together really well. Paul said this is a definite must make again...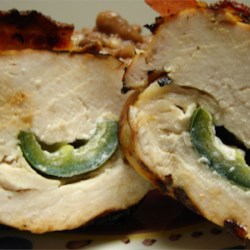 Jalapeno Chicken
Ingredients: For 6 servings
6 skinless, boneless chicken breast halves -pounded to 1/4 inch thickness
1 (16 ounce) bottle Italian dressing
3 fresh jalapeno peppers, halved lengthwise and seeded
1 (3 ounce) package cream cheese6 slices bacon-
I used turkey bacon, and that worked really good.
toothpicks
Directions:
Place chicken breasts in a dish with the Italian dressing. Cover, and marinate in the refrigerator at least 2 hours.
Preheat the grill for high heat.
Stuff each jalapeno half with cream cheese.
Roll chicken breasts around jalapeno peppers.
Wrap each chicken breast with a slice of bacon. Secure with toothpicks.
-I took another piece and wrapped it the opposite way so that i closed the hole that the rolling created, and so the cream cheese wouldn't come spilling out.
Lightly oil the grill grate. Arrange wrapped chicken breasts on the prepared grill. Cook for 20 minutes, turning frequently, or until bacon is browned and the chicken juices run clear.
-I cooked it on all 4 sides and then top and bottom, and it worked well.