I found this recipe and looked at it like, this is easy and cheesy
so lets give it a whirl!
Easy Cheesy Chicken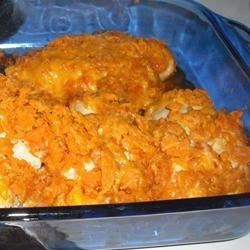 Ingredients
4 skinless, boneless chicken breast halves

1/4 cup butter, melted

3 cups crushed cheese flavored butter crackers

2 tsp garlic powder

2tsp crushed red pepper



Preheat the oven to 350 degrees F (175 degrees C).
Mix crackers, garlic powder and pepper together.

Lightly grease a 9x13 inch baking dish. Roll the chicken breasts in melted butter or margarine, then in the crushed cracker crumbs. Bake in the preheated oven for 50 to 60 minutes, or until internal temp reaches 180 degrees