When i first got my crockpot, i was not pleased. everything kept coming out super dry and i was getting really discouraged. I put it away for awhile, and recently pulled it out and haven't put it back since! Now that i'm home i can monitor it, which i know makes no sense for a crockpot, but the sucker runs really hot. the low setting has stuff boiling!
Well i finally decided to try a soup in the pot. and this week's potato sale at the grocery store spawned this recipe.
Loaded Baked Potato Soup
(directions are for stove top- i followed everything up until added the onions, bacon bits etc. at that point i threw everything in the crockpot.)
Ingredients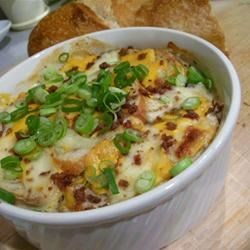 9 baking potatoes

2/3 cup butter

2/3 cup all-purpose flour

6 cups whole milk

1/2 tablespoon salt

1 teaspoon ground black pepper

1/2 cup bacon bits, divided

4 green onions, chopped

10 ounces shredded Cheddar cheese

1 (8 ounce) container sour cream
Directions
Prick potatoes with a fork and cook in the microwave, 3 or 4 at a time, and scoop out the flesh (while the others are cooking).

In a large saucepan over medium heat, melt butter. Stir in flour and cook about a minute. Whisk in milk, a little at a time, stirring constantly until thickened. Stir in potatoes, salt, pepper, 1/3 cup bacon bits, 2 tablespoons green onions and most of the cheese. Cook until thoroughly heated. Stir in sour cream and heat through. Serve topped with remaining bacon, onions and cheese.