We had Paul's brother over tonight for dinner and i wanted to make something super yummy, since he's a bachelor, lives with another dude, and umm lets say, there is no fine dining over there. I also wanted to make it as healthy as possible.
So i defrosted my chicken breasts and away i went!
to go along with it i had steamed corn, and also an Archer's Farm Southwest Chipotle Pasta Salad. Yes, i said it. My pasta salad came from a box. But guess what? it was easy, delish, and not too shabby with the nutrition facts.
Servings: 1/2 cup; Calories 310
; Calories from Fat 20;
Total Fat 2g;
Saturated Fat 0g;
Sodium 320mg;
Total Carbohydrate 64g;
Dietary Fiber 0g
;
Sugars 4g
;
Protein 12g
Weight Watcher Points
-6
anyway, here is the recipe for the chicken.
Spicy Garlic Lime Chicken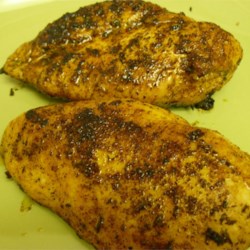 3/4 teaspoon salt
1/4 teaspoon black pepper
1/4 teaspoon cayenne pepper
1/8 teaspoon paprika
1/4 teaspoon garlic powder
1/8 teaspoon onion powder
1/4 teaspoon dried thyme
1/4 teaspoon dried parsley
4 boneless, skinless chicken breast halves
2 tablespoons butter
1 tablespoon olive oil
2 teaspoons garlic powder
3 tablespoons lime juice
1/2 white wine
Directions
In a small bowl, mix together salt, black pepper, cayenne, paprika, teaspoon garlic powder, onion powder, thyme and parsley. Sprinkle spice mixture generously on both sides of chicken breasts.(i found that i had to double the recipe for 4 breasts. apparently i really like to coat my chicken!)


Heat butter and olive oil in a large heavy skillet over medium heat. Saute chicken until golden brown, about 6 minutes on each side. Sprinkle with 2 teaspoons garlic powder, white wine and lime juice. TASTE IT FOR SALT, if you need more, add it. Cook 5 minutes, stirring frequently to coat evenly with sauce.
Nutrition Facts:
Servings: 4 Calories: 220 Total Fat: 10.7 Cholesterol: 84mg Sodium: 555mg Total Carbs: 2.4g Dietary Fiber: 0.3g Protein: 27.7g
Weight Watcher Points
-5