Raspberry Ribbons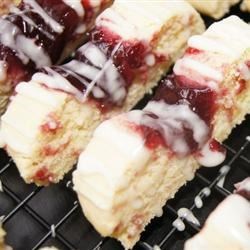 Ingredients
1 cup butter (no substitutes), softened
1/2 cup sugar
1 egg
1 teaspoon vanilla extract
2 1/4 cups all-purpose flour
1/2 teaspoon baking powder
1/4 teaspoon salt
1/2 cup raspberry jam
GLAZE:
1 cup confectioners' sugar
2 tablespoons evaporated milk
1/2 teaspoon vanilla extract
Directions
In a mixing bowl, cream butter and sugar. Beat in egg and vanilla. Combine the flour, baking powder and salt; gradually add to creamed mixture and mix well.
Divide dough into four portions; shape each into a 10-in. x 2-1/2-in. log. Place 4 in. apart on greased or foil-lined baking sheets. Make a 1/2-in. depression down the center of each log. Bake at 350 degrees F for 10 minutes.
Fill depressions with jam. Bake 10-15 minutes longer or until lightly browned. Cool for 2 minutes. Remove to a cutting board; cut into 3/4-in. slices. Place on wire racks.
In a small bowl, combine glaze ingredients until smooth. Drizzle over warm cookies. cool completely.