Brown Eyed Susans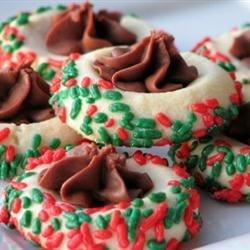 Ingredients
1 cup butter
1/4 cup white sugar
1/2 teaspoon almond extract
2 cups all-purpose flour
1/2 teaspoon salt
1 cup confectioners' sugar
2 tablespoons unsweetened cocoa powder
1 tablespoon hot water
1/2 teaspoon vanilla extract

Directions

Preheat oven to 375 degrees F (190 degrees C).
Cream butter or margarine and 1/4 cup white sugar until light and fluffy. Blend in almond extract. Add flour and salt; mix well.
Shape rounded teaspoonfuls of dough into balls. Place on ungreased cookie sheet. Flatten middle of dough ball with thumb print. Bake 8 - 10 minutes or until golden brown around edges. Let cool.
To make Frosting: combine confectioner's sugar and cocoa. Add water and vanilla and mix well. Place chocolate frosting into thumb print indention of cooled cookies.